Last Saturday we got to give a speech at the International May 1st Festival.
We thank Frauen*streik Bonn for inviting us and allowing us to share our word. Thank you!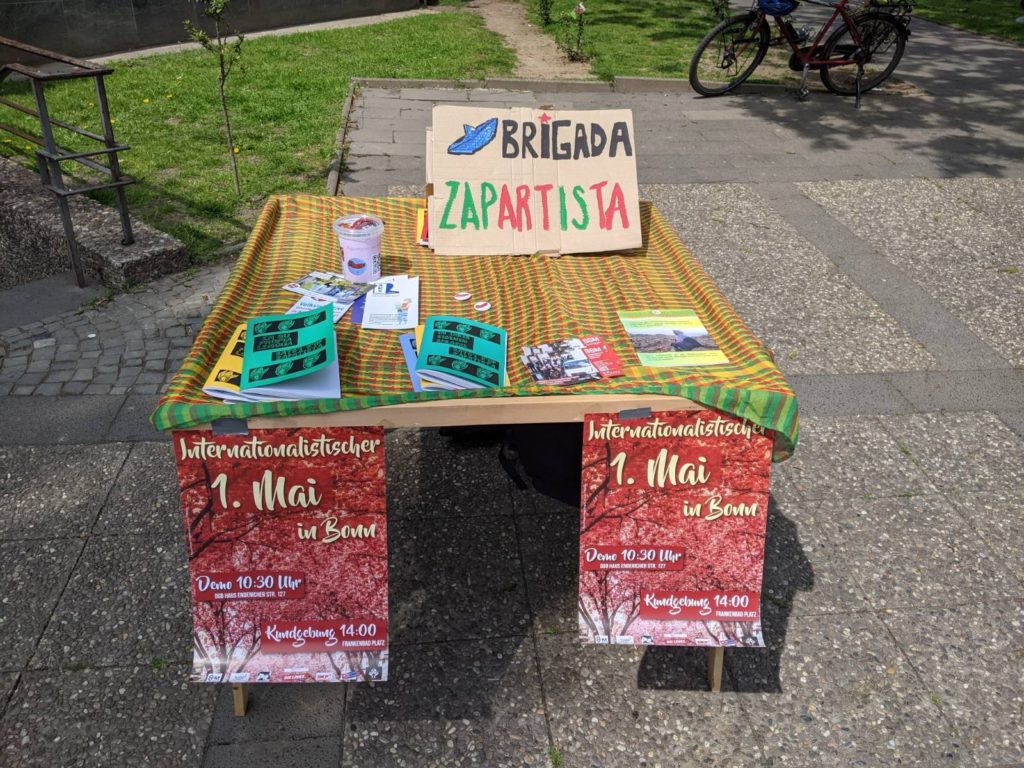 ---
I have a dead brother. My brother was killed by a bullet at dawn.
I asked the bullet where it came from. She replied: "From a gun. From a soldier's gun of the goverment of the powerful who serves another powerful, who serves another throughout the world."

The bullet that killed my brother does not have a homeland, and neither does the fight that must be fought to prevent more sisters and brothers from being killed.

That is why we made a commitment to unite all the resistances, all the rebellions, all the struggles of Europe from below and to the left.
We have listened to women who live in fear because men considered them objects to be used, abused, raped and murdered.

We have heard from seasonal workers in Bornheim who are exploited and forced to work and live in deplorable conditions.

We have heard exiles from Guinea in Cologne seeking a chance to live in peace and the German state wants to send them back to a certain death.

We have heard Ahmedin from Eritrea who wants to be with his family and the German state gets in the way.

We have heard from artists who are struggling to make ends meet.

We have heard from homeless people who want to live with dignity.

We have heard from people who don't have any hope left.

But we have not only heard pain, we have also met people and groups who have said enough! People who are getting together, organizing and fighting back.

Groups like Frauen*streik Bonn that fight for gender equality and a world where women live without fear.

Groups like Promo-Guinee-Afrika e.V., AfroConnexions e.V., Guinée Solidaire Organisation, Flüchtlingsrat Rhein-Sieg, Flüchtlingshilfe Bornheim and NoBorders Rheinland that fight to protect exiles and immigrants and to keep families together.

Groups like Hambi Bleibt, Lützi Lebt and Unser Aller Wald that protect our forests and villages against the mining industry, especially the RWE.

Groups like the FAU in Bonn and Düsseldorf, and Global May Day that fight with workers to make sure their labor rights are respected.

Groups like the Myanmar Civil Disobedience Movement fighting for real democracy against a military coup.

We say to all of them that their fight is our fight. The fight for life. #OneWorldOneStruggle: for freedom, unity and solidarity!

We invite all those who fight and resist to the network of rebellions of the Europe of below and to the left. A network that is organizing the trip of the Zapatistas, the National Indigenous Congress of Mexico (CNI) and the Peoples' Fronts in Defense of Land and Water, Morelos, Puebla, Tlaxcala. This summer we will meet to listen to each other, organize ourselves and demand justice.

Justice for our sisters and brothers of the CNI and the CIPOG-EZ who were killed by the paramilitary group "Los Ardillos".

Justice for our dead brother who was killed by a bullet at dawn: Samir Flores Soberanes. 

#SamirVive, la lucha sigue.
(Samir lives, the struggle continues,)